This is one of the most common jobs we encounter. Plumbing line breaks, sump pump malfunctions, water heater breakdowns, or sprinkler systems going off are some of the most common things we see.
No matter the cause, we know the importance of acting fast! Drying & protecting as much of your property as we can will help minimize any damage to sub flooring and other structures.
When we arrive, we'll do a walk-through with you to see what has been affected and note any places water may have migrated to, such as under drywall, into basements, or beneath floor coverings.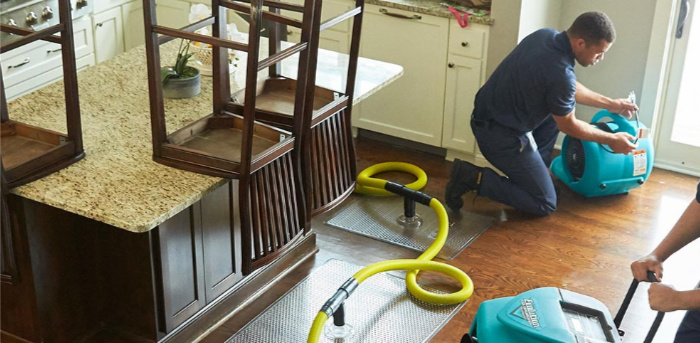 MEASURING MOISTURE
Simply setting up machines to dry your property isn't enough. We'll map out the damaged areas and record moisture readings on all of the affected materials and areas. We'll then check these as we work, to make sure that we dry your house or business to normal moisture levels.
REMOVING & DRYING AFFECTED ITEMS
Area rugs will be taken to our warehouse for special care. They need to be dried carefully to minimize bleeding of colors and discoloration. Your rugs will be dried, cleaned and returned to you after your house has been fully dried. Furniture will be assessed on a case-by-case basis to see if it can be dried and restored.