Carpet & Upholstery Cleanup
No matter if you need your carpets cleaned for a spring-cleaning or move out, or as part of a post-flood treatment, our carpet cleaning equipment is state-of-the-art, and our technicians highly trained. They can remove moisture, safely extract dirt and other particulate matter, remove stains, spot treat, and sanitize.
All of our carpet work is 100% guaranteed, which means our job isn't done until you're satisfied with the results.
For flooding emergencies, we can remove carpet that is beyond repair and help you to coordinate with the replacement. Our Pack Out Service means that we can temporarily store (and clean) any additional items while your furnishing and home contents are being cleaned or replaced.
CLEANING SERVICES
Carpet Cleaning
Upholstery Cleaning
Teflon and Scotch Guard application
Ceramic Tile Cleaning and Grout Sealing
House-wide Cleaning
Spot Removal
Our carpet, upholstery, and tile and grout cleaning can be done for spring cleaning, post-construction cleaning, or move-in/move-out cleaning. Our residential and commercial cleaning is guaranteed, meaning if you're not satisfied, we'll re-clean at no additional charge.
CARPET CLEANING
Our general carpet cleaning process includes:
Inspection and spot treatment.
Application of detergent to carpets.
Agitation of detergent to get better penetration into carpet fibers,
Allowing the product to dwell for 5-10 minutes to break soils loose from carpet fibers,
Rinse extraction with clean, 200-220 degree water with no detergents added. This removes the soil and our detergent from the carpets, leaving little to no detergent residue behind,
Treat any spots that did not come out with general cleaning,
Applying Teflon or Scotch Guard protector to the cleaned carpet (additional charges apply).
We will follow up with you in 48 hours to make sure you are satisfied with the service, and will come back if you're not.
UPHOLSTERY CLEANING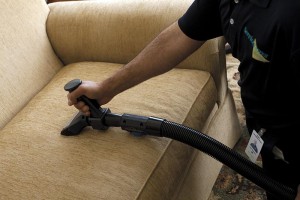 Upholstery cleaning process includes:
Pre-testing the piece to make sure it can be cleaned/
Wet cleaning the piece by applying the detergent.
Agitating with a clean towel.
Allowing the detergent to dwell for 5-10 minutes,
Rinsing the piece with clean or hot water.
OR – Cleaning the piece with detergent foam by hand
OR – Cleaning the piece with dry cleaning fluids by hand
The cleaning method used will depend on the type of fabric being cleaned.
TILE AND GROUT CLEANING
Our Tile and Grout Cleaning process includes:
We first vacuum the floor to be cleaned.
Grout cleaner is applied.
The cleaner is scrubbed into all the grout lines and over the tile.
The cleaner is allowed to dwell for 10 minutes.
The floor is rinsed with high pressure, high heat using a special tile tool.
The edges are rinsed with high pressure and heat using an edging tool.
The floor is dried using high velocity air movers.
The grout lines are then sealed individually.
Once dry, you can walk on the floor as normal.
Contact us for more information or to schedule a cleaning.